Excerpts as I read: "Normal Life" by Dean Spade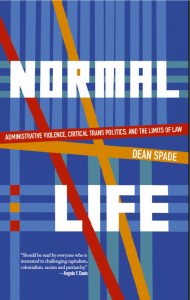 I'm only on the preface of "Normal Life: Administrative Violence, Critical Trans Politics, and the Limits of Law" by Dean Spade, and it's awesome. Spade begins by sharing the lived struggles of two trans people whom he had worked with at SRLP, and building from this painfully clear analyses and critiques of the institutionalization of violence that trans and gender non conforming folks face. Spade's logic builds on and from multiple discourses, aligns with critiques of mainstream LGBT politics and law reform centered strategy, i.e., "equality" and anti discrimination, and offers a compelling vision for change through building a critical trans politics.  
On institutionalization of LGBT politics and the limits of law reform-centered strategy (p. 15–16)
The compromises made in lesbian and gay rights efforts to win formal legal equality gains have come with enormous costs: opportunities for coalition have been missed, large sectors of people affected by homophobia have been alienated and the actual impact of the "victories" has been so limited as to neutralize their effect on the populations most vulnerable to the worst harms of homophobia. Further, the shifting discourse and strategy of lesbian and gay rights work toward privatization, criminalization, and militarization have caused it to be incorporated into the neoliberal agenda in ways that not only ignore, but also directly disserve and further endanger and marginalize, those most vulnerable to regimes of homophobia and state violence.

This book demands a reconsideration of the assumption that trans politics is the forgotten relative of the lesbian and gay rights strategy, and that its focus should be to seek recognition, inclusion, and incorporation similar to what has been sought by lesbian and gay rights advocates. Instead, I suggest that a more transformative approach exists for trans politics, one that more accurately conceptualizes the conditions trans people face and more directly strategies change that impacts the well-being of trans people…. It makes demands that exceed what can be won in a legal system that was formed by and exists to perpetuate capitalism, white supremacy, settler colonialism, and heteropatriarchy. It is rooted in a shared imagination of a world without imprisonment, colonialism, immigration enforcement, sexual violence, or wealth disparity. It is sustained by social movement infrastructure that is democratic, non-hierarchical, and centered in healing.